Individual Therapy Program
A SAFE, SUPPORTIVE
SPACE FOR WOMEN TO
RECOVER
Women fall into drug and alcohol addiction for many reasons. Some are co-dependent on a partner who uses, while others don't know how else to adequately handle stress. Regardless, recovering from addiction involves a lot of self-reflection and honesty. Thus, individual therapy can help you a great deal. Getting the addiction treatment therapies you need in a rehab facility is a significant step toward healing.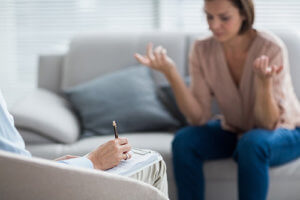 Finding Your Voice At A Recovery Center
Many women don't get the emotional support they need. You might expect a spouse or loved one to always be there for you, but they're not. Maybe you don't speak up for yourself because you've never had the confidence to do so. Unfortunately, all of this can lead to a feeling of unimportance and you may begin believing your voice doesn't matter.
Understand, nothing could be further from the truth. In rehab, you'll be given the chance to find your voice and addiction experts will encourage you to do so.
Perhaps for the first time in your life, someone will give you their undivided attention, showing you how important you really are.
Benefits of Individual Therapy
Soledad's
talk therapy program in San Diego
is very beneficial, particularly for women. During individual therapy, you'll work one-on-one with a trained, licensed professional. Your counselor will be open to anything you want to discuss. The benefits you can expect from individual therapy include:
Processing difficult subjects in a safe environment: Many women suppress memories of sexual assault or abuse, which is very difficult to overcome alone.
Growing confidence: In therapy, as you learn more about yourself, you'll gain confidence that will help you avoid leaning on addictive crutches in the future.
Increased self-esteem: As your confidence grows, you'll see that you deserve happiness just as much as anyone else. With a healthy degree of self-esteem, you'll be more willing to speak up for yourself when necessary.
Coping skills: Once you leave rehab, you'll have a set of coping techniques to handle common stressors. Whether it's toxic family members or job stress, you'll deal with them in positive, productive ways.
Making plans for a brighter future: Your therapist will help you devise a relapse plan that increases your chances for long-term recovery. If you thought your future was bleak, you'll see how untrue this is.
Addiction Treatment At Our Women's Recovery Center
Are you ready to renew your life? Soledad House is here to help you. We're a female-only rehab facility in San Diego, just minutes from the beach. In our nurturing environment, you'll receive treatment that takes women's unique issues into account. We believe that spirituality and recovery are closely linked. Soledad House includes a strong spiritual aspect in many of our rehab programs. You're free to refer to whichever higher power you're comfortable with. Whether you choose a Christian rehab experience or one connected to the universe, the choice is yours. Our additional programs include:
Lasting sobriety is always within your reach. Contact us today at
866.314.3222
. We'll help you overcome your addiction and create a bright future for yourself.
RECOVERY PROGRAM FOR WOMEN