A SAFE, SUPPORTIVE
SPACE FOR WOMEN TO
RECOVER
Soledad House offers women's addiction treatment in beautiful, sunny San Diego. In our women's addiction treatment facility, women who are struggling with substance use disorders will find a safe, supportive space where they can heal. We provide a true community and a nurturing, faith-based approach to lasting sobriety at our
San Diego treatment center
. To learn more about our
women's rehab staff
or our
rehab testimonials
, call us today.
THE SOLEDAD HOUSE EXPERIENCE
The treatment experience at Soledad House is set up so that patients enter and receive comprehensive care and
women's drug rehab treatment
before transitioning to a more independent living arrangement. At
Soledad House
, our goal is for our guests to make lasting changes in their lives. Addiction can damage your physical, mental, emotional, and spiritual health. Our comprehensive approach to treatment will help you heal in every aspect of your life.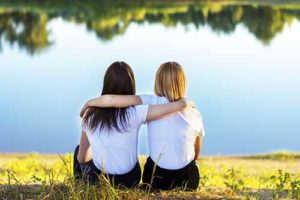 Soledad follows a 12-step program approach. This helps our guests keep track of their progress and makes it easy to participate in ongoing treatment in the future.
Our women's residential treatment center is designed to be serene, calm, and relaxing. We understand the challenges that you might face on the road to recovery. In our facility, you can focus on your recovery away from the stresses of everyday life. And through services like our life skills program, we can help you find steady employment and supportive housing.
At the core of
Soledad House's
approach to addiction treatment experience is a vast array of programs. These programs strengthen our patients' health, provide education, and help prevent relapse. Some of our programs and services include:
PHASE 1 AND PHASE 2 TREATMENT PROGRAMS
Programs at Soledad are broken up into Phase 1 and Phase 2. Phase 1 takes place in our low-traffic, secure, women-only facility. After a set amount of time, when patients achieve their goals and are ready, they can begin the move to Phase 2.

Phase 2 is a transition to sober living homes within a mile of the main facility. This offers patients more freedom and allows them to set their own schedules. However, accountability, peer support, and ongoing therapy are still readily available.

DAILY SCHEDULE FOR WOMEN'S RECOVERY AT SOLEDAD HOUSE
Many patients benefit tremendously from a structured schedule. Because our patients spend a good amount of time with us, they're able to hold on to their new life skills even after finishing addiction treatment services at a women's treatment program.

At Soledad House, the day might start with morning meditation, which leads right into an AA meeting. Next, chores and breakfast bring residents together. Group meetings might fill the morning, and lunch can be a time to relax and chat with peers.

After some time alone to reflect, relax, or read, an education group can help patients learn new skills. Then, free time in the afternoon allows patients to participate in individual therapy or fun activities. Dinner is a fun, social activity where patients can celebrate the joy they find in sobriety together.
RECOVERY PROGRAM FOR WOMEN